S5004/S5005 Class 2 Performance Zippered Surveyors Safety Vest
| | |
| --- | --- |
| MSRP: | $43.89 |
| HiVis Savings: | $6.19 |
This high-performance ANSI Class 2 safety vest has been designed to meet the specific needs & demands of a surveyor's job.
ANSI/ISEA 107-2015 | Type R, Class 2
Ultra-CoolTM 100% Polyester Mesh 
Pockets Specifically Designed for Surveyors
Padded Collar for Optimum Comfort
Reflective Striping w/Black Accents
Left & Right Microphone Tabs
Zipper front Closure 
A surveyor's job is unique, and so are the requirements. With that in mind, Kishigo designed the S5004/S5005 High-Performance Surveyor's Safety Vest to provide much-needed safety and convenience options that surveyors demand. Made from ultra-cool polyester mesh fabric and reflective striping to meet ANSI Class 2 requirements, this safety vest has everything you need to stay safe and productive on any surveying job. The extra black accents around the striping provide for additional contrast to enhance visibility in low-light conditions or adverse weather. 
The S5004-S5005 safety vests are equipped with a padded collar for maximum comfort in the field and dual microphone tabs at the shoulders for simple hands-free communication. The vest also features an abundance of pockets including a 2-tier / 4-division pencil pocket, left chest radio/cell phone pocket (with ID holder) with hook & loop flap closure, dual lower front flap pockets, lower inside pocket with zipper, a heavy-duty inside tablet pocket with hook & loop strap, and a hidden back push pocket with dual (left & right) zipper access. Available in high-visibility Lime or Orange, in sizes ranging from SM - 5X.
ANSI/ISEA 107-2015 | Type R, Class 2
2" Wide High-Performance Reflective Material with 3" Contrasting Black
100% Ultra-Cool™ Polyester Mesh Fabric 
Pockets:

Left Chest Radio Pocket and Clear ID Holder with Flap
Right Chest 2-Tier, 4-Division Pencil Pocket
Outside Left and Right Full-Length Pockets with Grommets
Inside Lower Left Tablet (iPad) Pocket with Load-Bearing Strap
Inside Lower Right Full-Length Pocket
Hidden Back Pouch With Left and Right Zipper Access

Zipper Front Closure Reinforced with Durable Webbing
Left and Right Microphone Tabs

Size SMALL Only Includes Left Mic Tab

Padded Neck for Comfort
Two Lapel Grommets
Sizes Ranging From SM-5X
This Product Contains the Following SKUs:
Lime
MLK-S5004-SM | MLK-S5004-MD | MLK-S5004-LG | MLK-S5004-XL | MLK-S5004-2X | MLK-S5004-3X | MLK-S5004-4X | MLK-S5004-5X |
Orange
MLK-S5005-SM | MLK-S5005-MD | MLK-S5005-LG | MLK-S5005-XL | MLK-S5005-3X | MLK-S5005-4X | MLK-S5005-5X |
HiVis Red
ANSI 107 Type R, Class 2 | Available HERE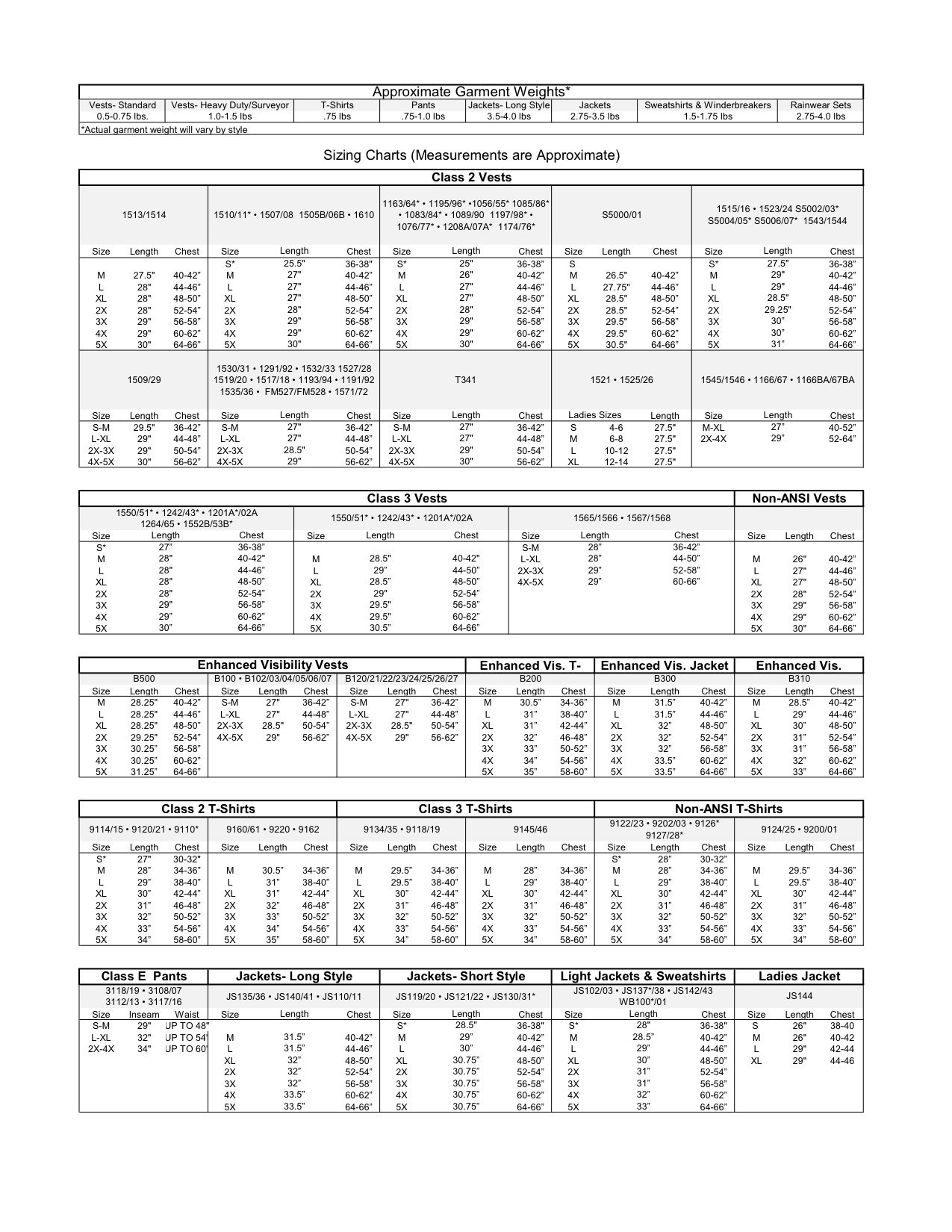 A Logo Can Be The Difference Between Being Seen On The Job Site And Standing Out On The Job Site
HiVis Supply can add your company name or logo to your high visibility work gear. This quick add-on can help you identify your team while working on a job site with mixed contractors. It's also a great way to build brand awareness for your company.
Our imprinting services include simple and cost-effective single-color imprinting, highly reflective imprinting for improved visibility, or full color imprinting to match every detail of your company logo.
The cost is low. The turnaround is quick. The quality is unbeatable.